Scotland Malawi Mental Health Education Project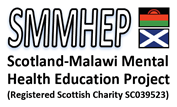 The Scotland-Malawi Mental Health Education Project (SMMHEP) is a registered Scottish Charity run by mental health professionals from across Scotland, actively supported by NHS Education Scotland (NES), the Royal College of Psychiatrists and the Tropical Health Education Trust (THET). SMMHEP organizes the teaching of psychiatry to undergraduate medical students and the training of post graduate trainees on the MMed (Psychiatry) course in the College of Medicine, Malawi. Undergraduate Teaching is carried out by visiting volunteer psychiatrists from Scotland and SMMHEP has worked in partnership with the University of Malawi to deliver and develop psychiatry training. The project has delivered an educational standard equivalent to Scottish universities and has also provided undergraduate teaching to clinical officers at St John of God College of Health Sciences, Mzuzu.
SMMHEP has worked with the College of Medicine to establish a four year postgraduate MMed (Psychiatry) training and the first three trainees are currently enrolled on the course in Malawi.
Member Type
Organisational member, A
Areas of Interest
Capacity Building
Disability
Education - Higher
Education – Development & Capacity Building
Health – Child Health
Health – Community Health
Health – Maternal Health
Health – Psychological Health
Operational Areas
Email
[javascript protected email address]
Website
Charity Number
SC039523
Join Scotland's International Development Alliance and be part of Scotland's international development community.