Conference 2022
20th September 2022, 09:15 to 18:00
↵
Alliance Annual Conference 2022
About this event
We were delighted to invite our members and community to join us for the Alliance Annual Conference 2022, exploring global citizenship in a challenging world, at the stunning Dynamic Earth in Edinburgh, and online.
Together, we examined what it means to be a good global citizen in 2022, how to strengthen and maintain commitments to a decolonised, anti-racist approach, and how to take individual and collective action in the face of the growing climate crisis, as well as numerous global humanitarian crises.
Keynote speaker Baroness Shami Chakrabarti joined a diverse line up of speakers representing global citizenship, climate justice and international development.
Attendees enjoyed engaging and interactive sessions with conference speakers such as representatives from Scotland's partner countries in the global south; climate justice activists; economists; and global sustainable development experts.​
Sessions: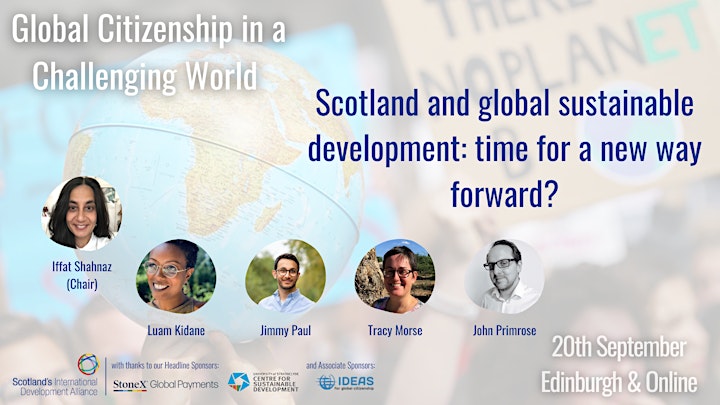 Scotland and global sustainable development: time for a new way forward?
The global pandemic has highlighted inequalities that are largely the result of historical legacies, industrial exploitation and continued injustice. In this context what does it mean for Scotland to be a good global citizen? What can a small country like Scotland do to lead by example, or to learn from others? What does being a good global citizen mean in a world where the notion of measuring wellbeing by GDP is past its sell by date? What can Scotland do to make a difference in a world where to be anti-racist and promote shifts in power might mean leaving traditional 'aid' behind and rethinking global power relations. What might a new global solidarity strategy look like? What are the Scottish government's current plans and how do they fit?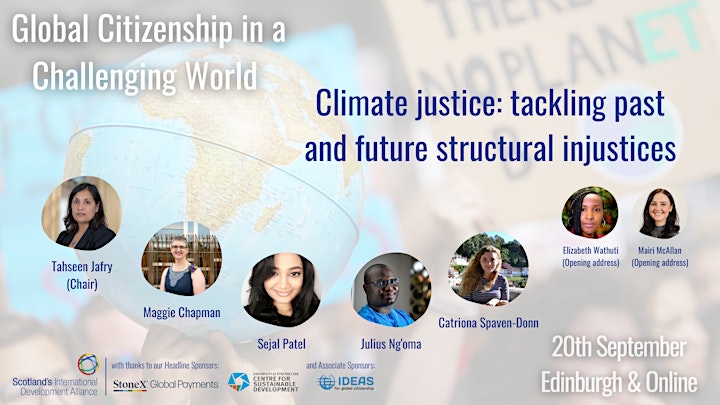 Climate justice: tackling past and future structural injustices
How is Scotland's pledge for loss and damage finance being delivered in practice; what more could Scotland do to encourage other nations to step up and follow this commitment; and in what other ways can we show leadership to acknowledge, amend and show solidarity with those most affected by the climate crisis?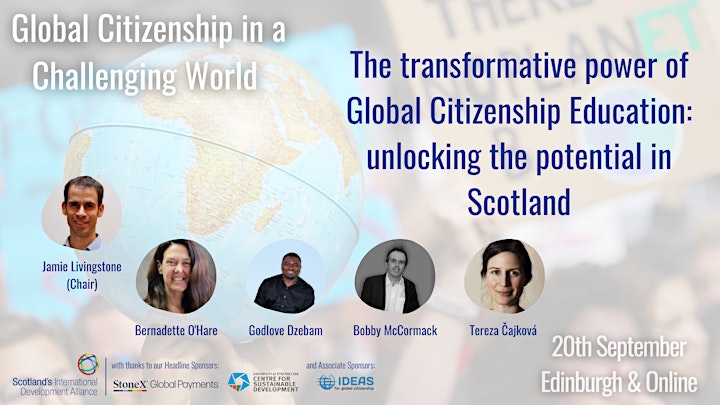 The transformative power of Global Citizenship Education: unlocking the potential in Scotland
This session will provide an exploration of critical Global Citizenship Education and what this learning looks like in diverse contexts and places. Our panel of speakers will share their perspectives and experiences as we consider the value of these approaches to building global solidarity.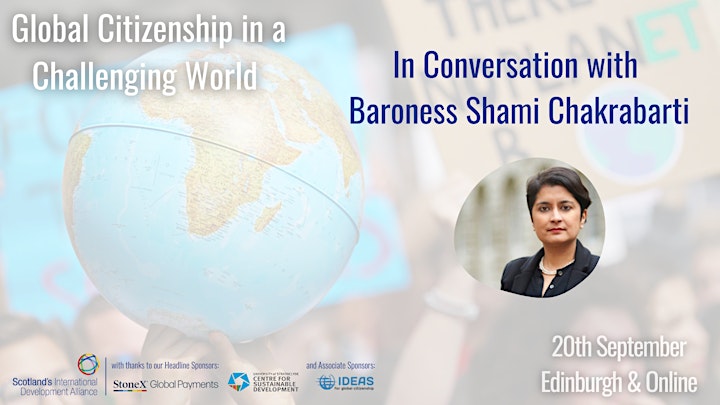 In conversation with Baroness Shami Chakrabarti.
A member of the House of Lords since August 2016, Shami Chakrabarti has worked tirelessly as a barrister, Director of Liberty and shadow Attorney General to promote human rights. In conversation with Frances Guy, CEO of the Alliance, Shami will discuss her motivations, her current work and reflect on human rights in international development as well as the implications of the Scottish government's commitment to incorporate four key international human rights treaties into Scots Law.
When registering to join this event, you are accepting the Alliance booking Terms and Conditions, found here.
All of the Alliance events adhere to our Safe Spaces Policy, which you can find here.
Speakers:
We are delighted to announce Shami Chakrabarti as our keynote speaker for the 2022 Alliance Annual Conference.
Shami Chakrabarti (Baroness Chakrabarti CBE PC) is a human rights lawyer and campaigner, Labour Peer and was Shadow Attorney General for England and Wales from September 2016 to April 2020. She was the Director of Liberty (the National Council for Civil Liberties) from 2003 to 2016 and its In House Counsel from 2001 to 2003. Prior to that she was at the bar and then a Home Office lawyer (1996-2001).
She was a panelist on the Leveson Inquiry into media culture, ethics and practice after the phone-hacking scandal in 2011/12 and one of an international group who carried the Olympic flag at the opening of the London games in 2012.
She was the Chancellor of Oxford Brookes University and of the University of Essex and has been an Honorary Professor at the Universities of Bristol and Manchester and the London School of Economics. She served on the Board of the British Film Institute (BFI) for many years and on the Members Council of the Tate.
She is a Master of the Bench of Middle Temple. Shami has written and broadcast widely and is the author of two books; "On Liberty" (2014) and "Of Women" (2017). Both are published by Penguin, Allen Lane.
The conference will be led and chaired by Iffat Shahnaz.
Iffat is social researcher, consultant and campaigner. She has worked in a number of roles across the third sector on areas related to community education, community development, adult learning, developing services focusing on anti-racist support, health and wellbeing programmes for young people, tackling violence against women whilst committed to embedding equality of access and support across whole organisations.
Iffat embeds an anti-racist intersectional analysis, in all areas of her paid and unpaid work with progressive organisations nationally and also internationally. Her recent work has taken her back to her social researcher roots; as part of the Collective she was a co-research lead on a community-led project which focused on the impact of COVID-19 responses across Scotland, an employability project for One Parent Families Scotland and the Joseph Rowntree Foundation to research the lived experiences of single-parents and employability programmes in Scotland.
Currently she is working on a Communities of Colour, Co-Production and Employability project for the Joseph Rowntree Foundation. Iffat is a Trustee with Link Education International and Board member with Engender Scotland.
Luam Kidane's research, writing and curatorial work examines movement building at the intersections of Indigenous governance models, cultural production and articulations of self-determination. She has worked as a researcher and strategist on food sovereignty, political economy, gender, sexuality, climate justice, and cultural production. Luam is currently the Director of Global Programs at Thousand Currents, a public foundation that funds formations working on economic justice, food sovereignty, and climate justice in Africa, Latin America and the Caribbean, and Asia and the Pacific.
Jimmy Paul is Director of WEAll Scotland. Jimmy has worked in a range of leadership roles across health & social care for nearly ten years. He worked in strategic and operational roles across the NHS. He was latterly a Consultant at the Centre for Excellence for Looked after Children in Scotland (CELCIS) and was a co-chair at the world-leading Independent Care Review. He is an executive coach, a fellow at the Royal Society of the Arts and has represented Scotland internationally through initiatives at the World Economic Forum and the British Councils.
Professor Tahseen Jafry leads the pioneering Centre for Climate Justice at Glasgow Caledonian University. Her research interests include the justice and equity aspects of climate change, gender and poverty targeting, the management of natural resources, the geo-political nature of climate justice and the psycho-social impacts of climate change. Tahseen is a qualified engineer and social scientist and has over two decades of research and development experience.
Julius Ng'oma is the National Coordinator for Civil Society Network on Climate Change (CISONECC) in Malawi and has been leading the network since 2014. Julius has supported the Government of Malawi delegation to the Conference of Parties (CoPs) every year since 2014, contributed to Negotiations on Adaptation, Loss and Damage and Finance related Negotiations during CoPs including during Subsidiary Body of Implementations (SBIs) and Subsidiary Bodies for Scientific and Technological Advice (SBSTA) Sessions. He holds an MSc in Environmental Sciences from University of Malawi and a Bachelor of Science in Forestry from Mzuzu University, Malawi.
Elizabeth Wathuti is a Kenyan environment and climate activist and founder of the Green Generation Initiative, which nurtures young people to love nature and be environmentally conscious at a young age and has now planted 30,000 tree seedlings in Kenya. She is a recipient of a Wangari Maathai Scholarship award for her outstanding passion and commitment to environmental conservation.
Màiri McAllan MSP is a Scottish Politician serving as Minister for Environment, Biodiversity and Land Reform since May 2021. A member of the Scottish National Party, she has been the Member of the Scottish Parliament for Clydesdale since 2021. Màiri attended Glasgow University to gain her Diploma in Professional Legal Practice and, after qualifying as a Scots lawyer, specialised in energy and natural resources in a Glasgow, commercial firm. She also cofounded the human rights organisation 'Reblaw Scotland'.
Sejal Patel is an environmental economist with experience in public policy analysis, climate finance and governance, and climate-resilient development. Her work focuses on international, national and local level climate policy responses and resourcing.
Dr Tracy Morse is Senior Lecturer and Head of Strathclyde Centre for Sustainable Development. Having previously been based in Malawi for 20 years, she leads an interdisciplinary research team with a focus on addressing the determinants of health in low and middle income countries.
Godlove Dzebam is currently the coordinator of Draufsicht Bamenda, a youth-led organization that focuses on local solutions to global questions through filmmaking in Bamenda-Cameroon. Godlove holds a Master's degree in Educational Quality for developing countries from the University of Bamberg-Germany and serves as a teacher and teacher trainer in an early childhood centre in Bamenda.
Bobby McCormack is the co-founder and CEO of Development Perspectives, which specialises in Global Citizenship Education. Bobby worked as a Senior Lecturer in the Dept of Humanities in Dundalk Institute of Technology from 2006 - 2019 and has an MA in Development Studies and is a qualified mediator. Bobby is a board member of Dóchas (Umbrella Group for Irish Development NGOs) and in 2017 was the recipient of the Dóchas, "Global Citizen of the Year". Bobby has produced 5 documentaries, is an avid Man United fan and loves Dogs.
Bernadette O'Hare is a senior lecturer in Global Health at the University of St Andrews. She is also a senior lecturer in Global Health at the Kamuzu University of Health Sciences in Malawi and a consultant paediatrician. Dr O'Hare worked in the NHS for 20 years, most recently as a consultant paediatrician for eight years, before working for ten years in Africa as a paediatrician and public health doctor. She now studies the international influences on domestic revenue and thus the Sustainable Development Goals (SDGs). She is a Fellow of the Royal College of Paediatrics and Child Health (RCPCH), sits on the Working Group on Climate Change and chairs the International Strand.
Tereza Čajková has worked in the field of global education since 2012. Currently, she designs programs for learners engaged in transformative education as a form of in-depth immersion into the complexity of global interconnections, examining the edges of cognition and rationally-based imagination, and exploring new possibilities for sensing, being, desiring and relating. Tereza is part of the Gesturing Towards Decolonial Futures collective, a collective of researchers, artists and educators working on the interface of questions related to historical, systemic, and ongoing colonial violence and ecological unsustainability. Within her PhD at the University of British Columbia in Canada, she explores what kind of learning we might need to navigate the current and future multiple global crises.
Join Scotland's International Development Alliance and be part of Scotland's international development community.